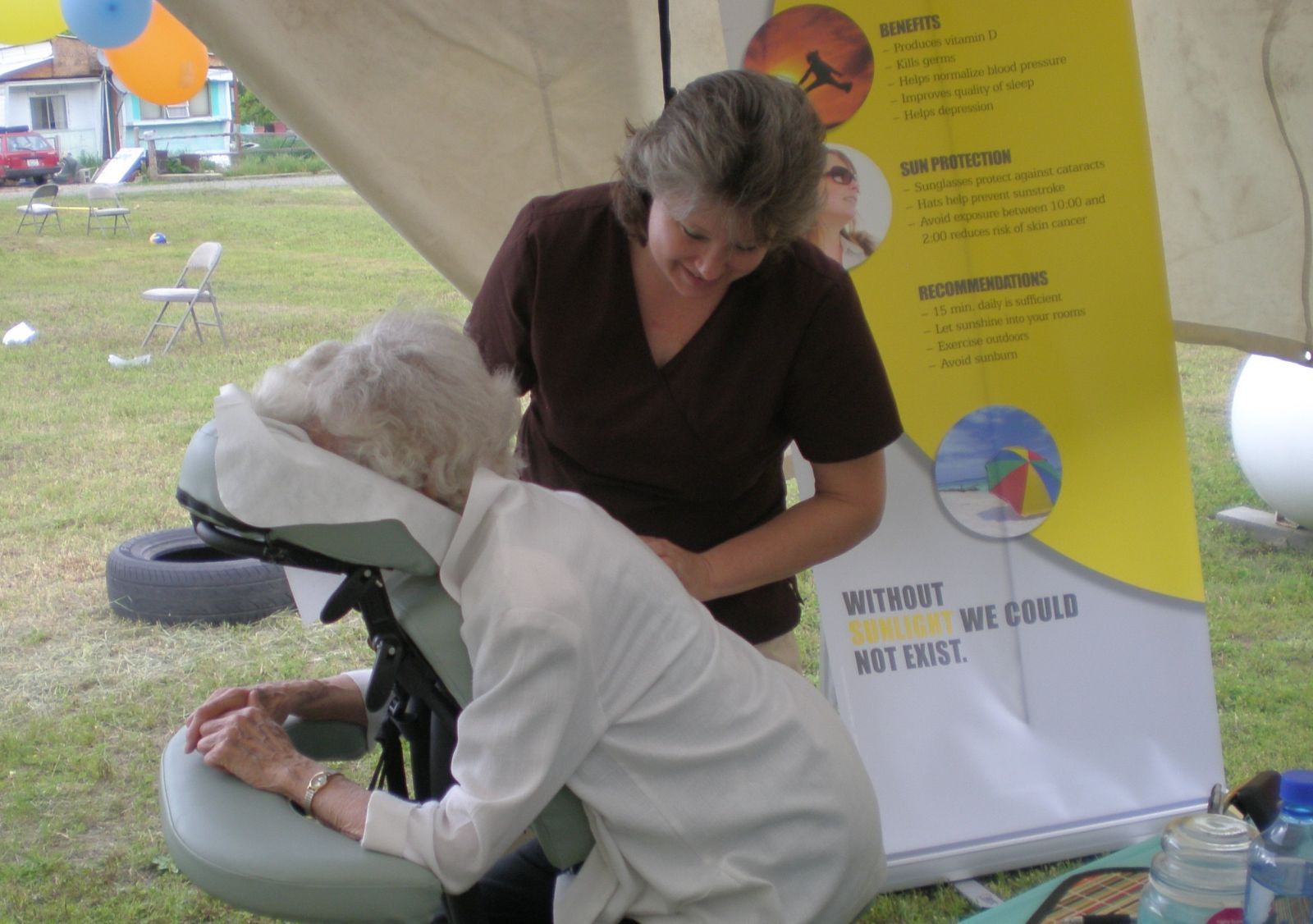 December 2016 Update: I have relocated my practice to Shelton, WA where my husband Dave has accepted a job. My first client day in Shelton was December 5th. I am grateful to have found the perfect place to work in. It is a beautiful, welcoming space in an office complex surrounded by other health care professionals. Come check it out: 2146 W Railroad Ave, Suite D, Shelton, WA 98584. My cell number is the same, so give me a call soon!
Thanks again to my wonderful clients and friends I had to leave behind in Colville. I miss you all! I am so glad I had the opportunity to serve you and be a small part of your life. -Brenda W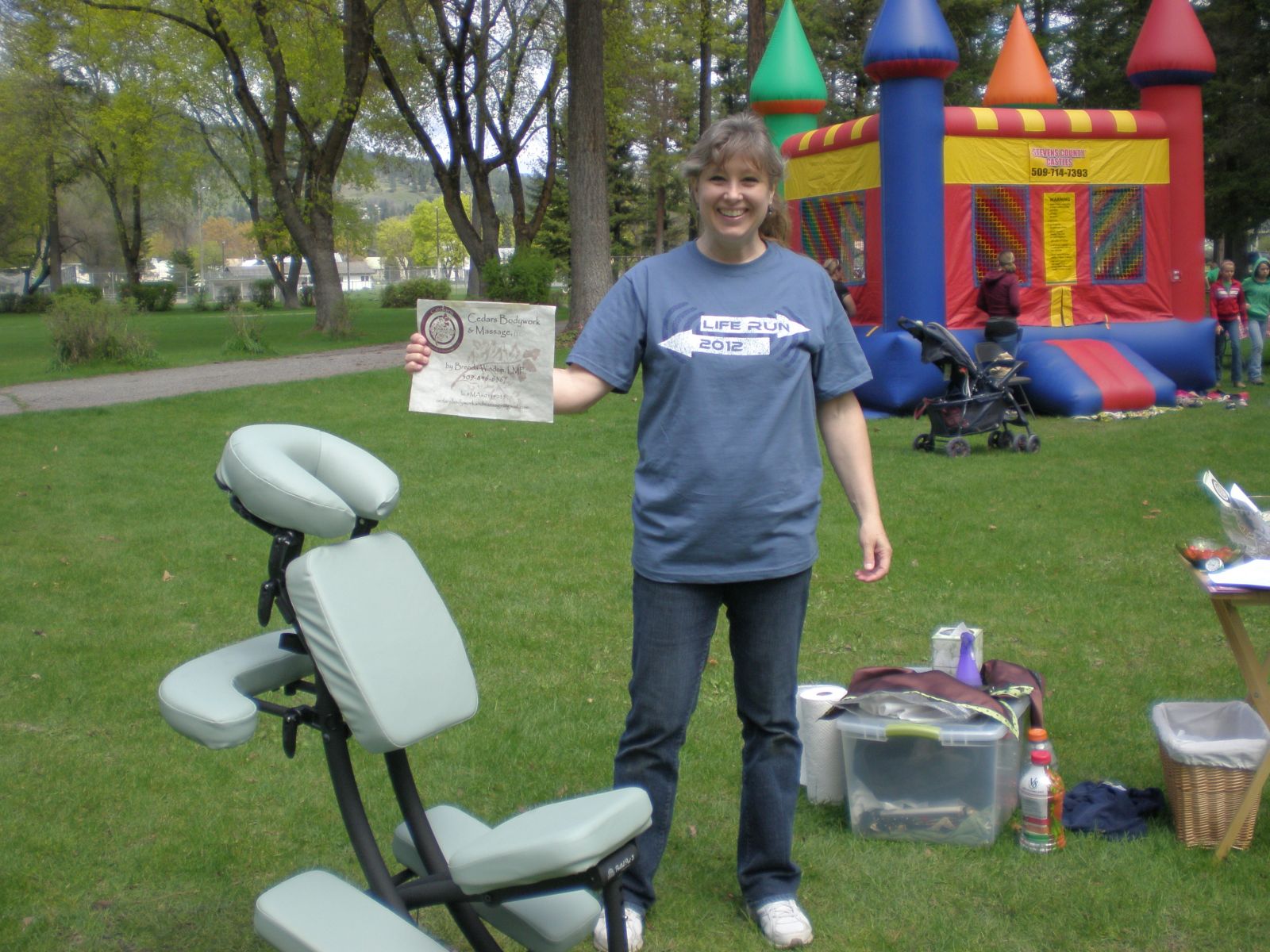 FIND ME ON FACEBOOK UNDER "CEDARSBODYWORK&MASSAGE"
Brenda J. Windom, ABMP Certified LicensedMassage Practitioner - (pic above)doing chair massage for LifeRun,(no, that's not a baby bump, just extra calorie storage) and a Health Fair.
Graduated from The School of Therapeutic Touch & Body Work in Wenatchee, WA in August 2008. Has since completed:
60hrs in Structural Relief Therapy: a gentle technique for re-training involuntary muscle contractions. Effective for chronic medical conditions like thoracic outlet and carpal tunnel syndrome, low back pain, whiplash injuries, etc.
17hrs in Lymphatic Drainage Massage(LDM):a gentle touch therapy that promotes health and aids recovery from certain illnesses. It can reduce or prevent fluid retention and supports the immune system.
135hrs in Complete Decongestive Therapy for Lymphedema (CDT). A 4-part treatment that reduces the size of a limb swollen because of damage to the lymph system. CDT combines Lymph Drainage Massage(LDM), bandaging, exercise, and education to restore normal function to the affected limb and get your life back on track. See 'Lymph Drainage Massage' page for details. I earned a 3.8 GPA attending Spokane Falls Comm College in Anatomy&Physiology I, II over the fall/winter of 2014-2015. Great fun! and learned a LOT. Nationally Certified by the Lymphology Association of North America for CDT. (pic below)On a hike above lake Koocanusa, MT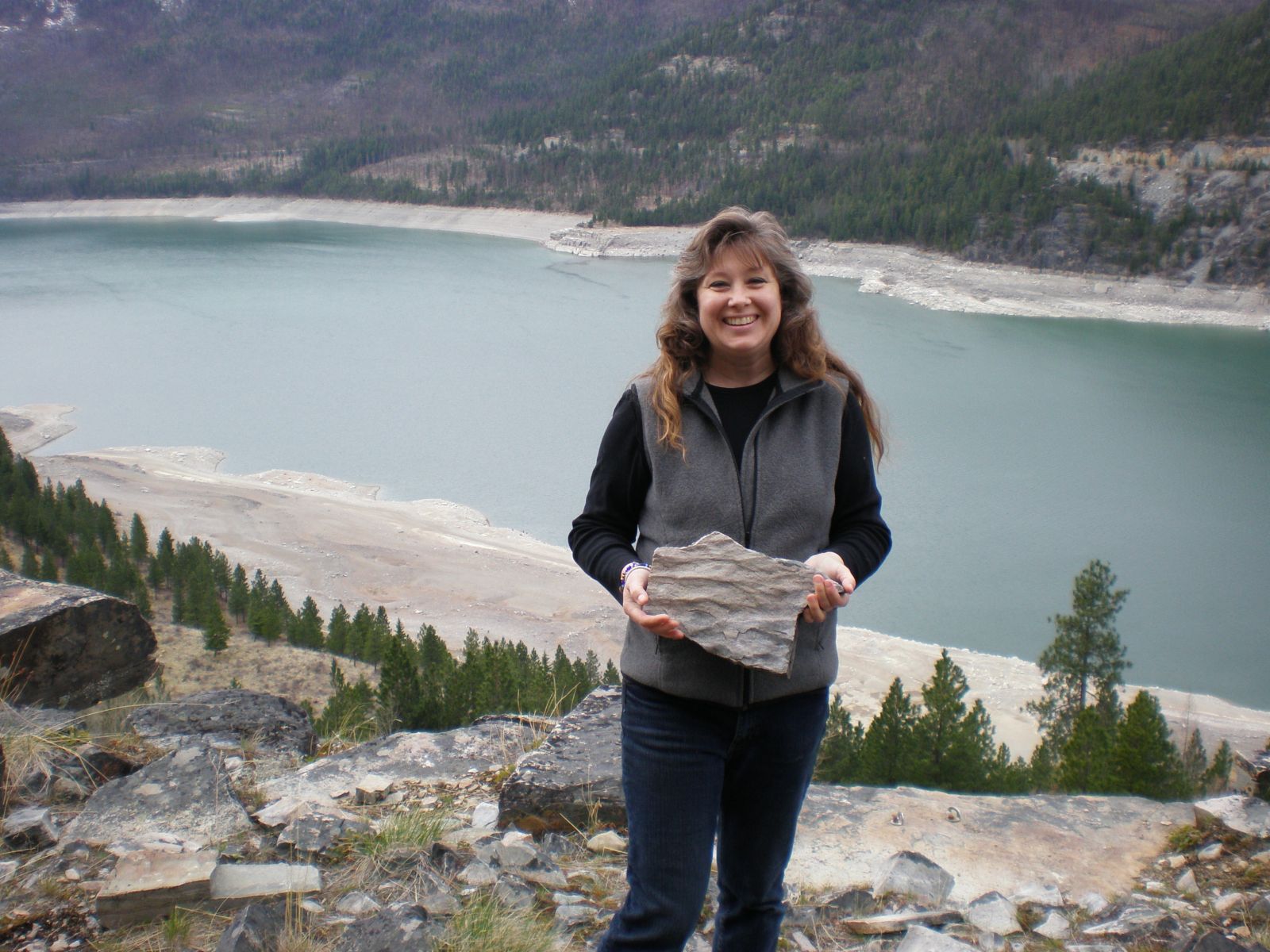 I am so glad I found Massage! It is what I was born to do. It feels great to be able to change a stressed-out, hurting client into a happy, pain-free client. I really enjoy providing a space and time for clients to forget about the world for a while. Most modern people ignore their bodies and don't listen to the signals they are getting from them. It is very fulfilling to help put mind and body in touch with each other again. I enjoy teaching clients how to help themselves to achieve optimal health. The body is an amazing machine that will heal itself if we only give it a chance.
I have been married to my high school sweetheart David for 35 years now. We have three grown-up kids and two grandsons scattered across the state of Washington. Besides Massage, I enjoy reading, riding (horses and motorcycles), singing, hunting and fishing. I was a stressed-out office manager for many years before discovering the gift of massage; I really do "feel your pain" !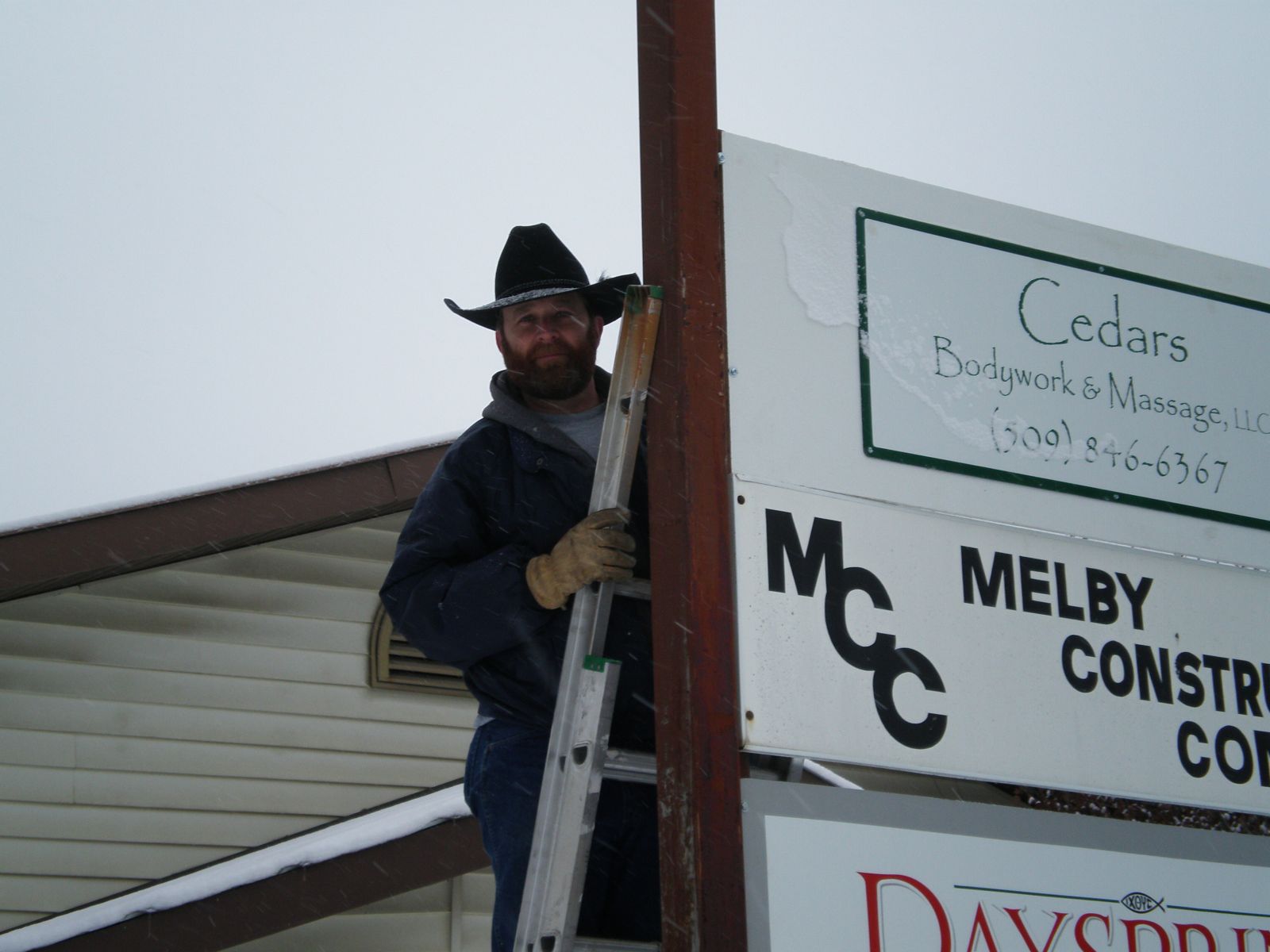 My husband Dave installing my new sign back in Colville. Isn't he handsome!
.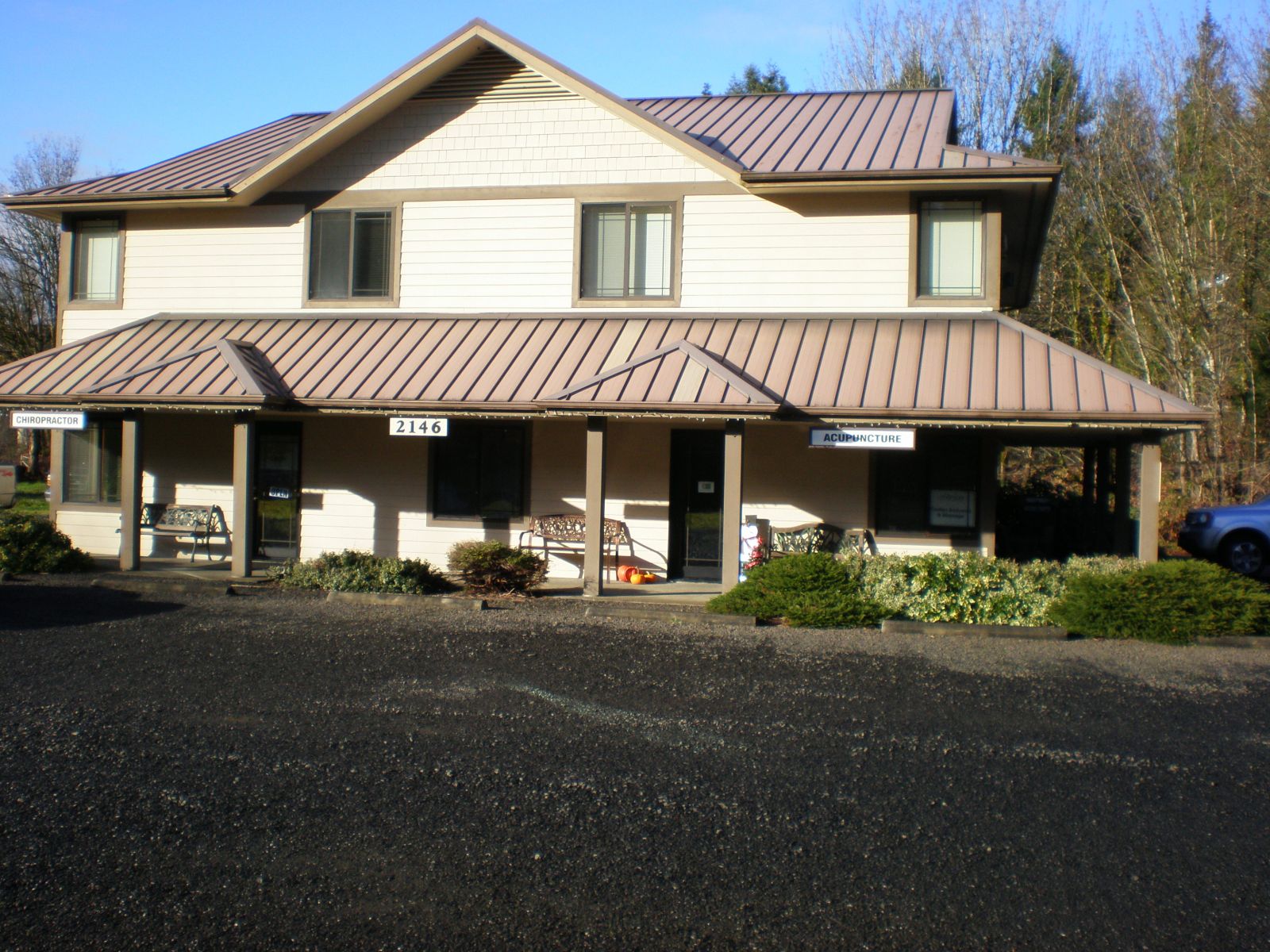 2146 W Railroad Ave, Left hand building, bottom left door :)